One-on-One with Raghuma Reddy: Dynamics 365 CRM Value, Benefits, Challenges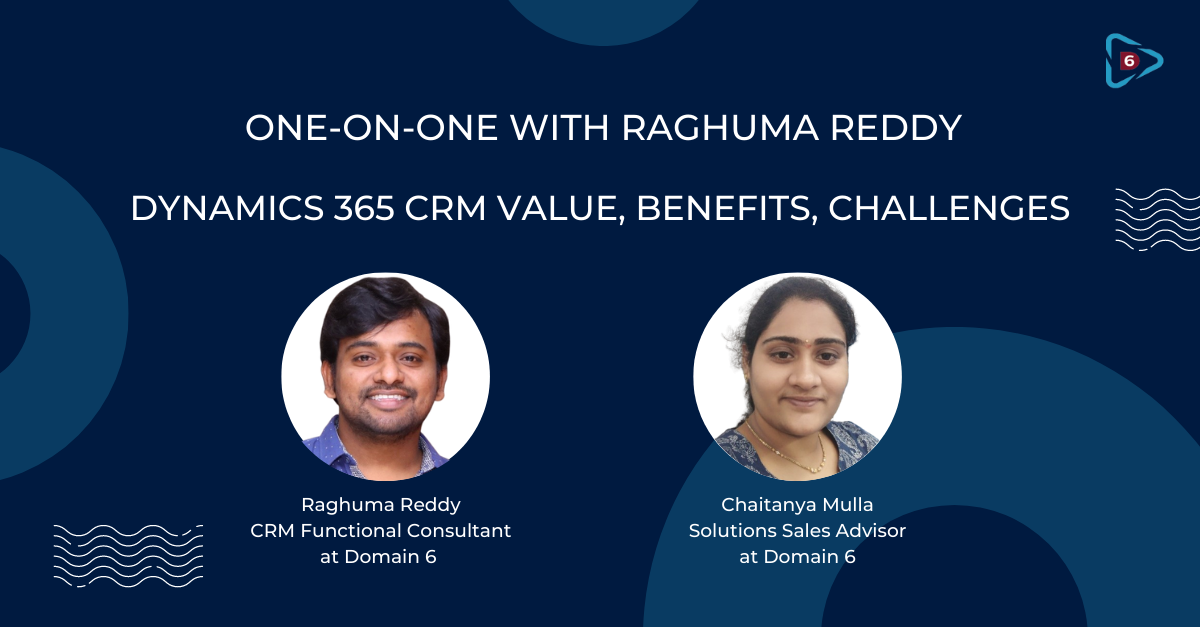 Chaitanya Mulla: Hi Raghuma! Thank you so much for taking the time for a quick interview. You are our CRM expert at Domain 6, so I would like to start with a couple of words about your journey and what made you choose this as your career path?
Raghuma Reddy Madireddy: Thank you for giving me this opportunity to share my journey. I began my career as a project coordinator for .net projects. Some CRM projects were included in the portfolio as well. I got really interested in CRM when I started learning it as an end-user because it was very easy to understand. And all of a sudden, I have realized that I can make a career out of it, so I made a switch to being a CRM functional consultant. 
CM: Very interesting. With you being such a fan of CRM in general, why do you believe Microsoft Dynamics CRM is so valuable to customers?
RM: Well, there are a couple of reasons. Microsoft Dynamics CRM is very easy to adopt. It makes the transition smooth and effortless, while significantly boosting the productivity of the end-users. It resembles Microsoft native products, such as Microsoft Office and Outlook. Most of the employees are already familiar enough with these tools, so you don't run into the issue when it takes weeks and weeks to train the team. Microsoft Dynamics 365 is very intuitive, user-friendly and easy to navigate. The other reason is cost-effectiveness. It is a cloud-based application, so you can opt-in for a subscription model and select the modules that you need. And the third important value I would mention is the ease of maintenance. Dynamics CRM is a low code development, so the admin from the customer side can easily configure and customize the system without any coding knowledge. The customer can easily implement certain business rules for validations and create workflows unique to their business needs.
CM: Seems like a lot of good values to me. Based on your experience, how does Microsoft Dynamics CRM integrate with the current technological advancements?
RM: Microsoft is continuously working to bring new updates to their customers. Every three months Microsoft released an update to its CRM. It becomes more and more connected every time. For example, CRM along with Power Apps have data verse where you can have multiple connectors, which we can easily connect with different systems. Not a single line of code is required for this. You just need to create the connectors, create the data mapping and data will flow without any glitches.
CM: Nice! Seems like a very easy process to me. So how does Microsoft Dynamics CRM stack up against the competitors right now?
RM: Oh, I would say it is one step above. For example, if a company considers developing an in-house app for customer interaction, they need to hire an app developer and start working on creating the database and then the integration. But when you implement Microsoft CRM, all you have to do is create a canvas app on CRM data and it can be used on any mobile device. The power of Dynamics CRM is in being connected with the rest of the Microsoft suite, meaning you can scale as your business grows and develop some very unique functionality in a very efficient way, without disruption to your daily operations.
CM: Have you come across any recent updates that are a game-changer?
RM: IoT or the Internet of Things is the talk of the town. Now, field service teams are equipped with IoT devices and in case of glitches, it raises the alerts and schedules a field technician for a visit. Everything is automated, with no human intervention. This is one of such advanced features in Dynamics CRM.
CM: Is this feature unique to Microsoft CRM or it is also available with the other competitors?
RM: Yes, it is available. But in Dynamics CRM, all you need to do is to create a device link and the rest is already prebuilt for you. You don't need to develop anything new. You have an IoT center where you can configure your device and the data flows from the IoT center to the CRM and the field technician mobile app is seamless. This is a major advantage.
CM: Why Dynamics CRM is worth the investment for clients?
RM: It improves the efficiency of their sales and marketing teams and it also increases their productivity as it has the complete record of the customer journey and a 360-degree view of a customer. This ensures that your teams are not skipping any critical activities regarding a particular client. This can significantly increase the revenue and customer retention rates.
CM: So that is from a sales perspective. How about the service side of it?
RM: When it comes to service, Dynamics CRM also creates great efficiency. When a ticket is raised, a technician is being assigned based on knowledge and skill. If the issue is repeatable, the technician can easily rely on the knowledge-based articles to resolve the issues even they are new to the job. A knowledge-based article will pop up based on the case and category. We also have a virtual agent – a chatbot that will try to answer all the questions which are already configured in the knowledge base. So major questions are answered very quickly. If the issue is unique, the customer will be prompted to speak to the customer service agent. It is productive for both parties.
CM: Thank you. It does seem like a worthwhile investment. But let's switch the topic a bit now. What kind of challenges do you face with clients when implementing CRM?
RM: I can share some examples. There was a major challenge I faced with one of our clients. They have a large team, numerous office locations and their commissions are based on their sales. The concern we noticed was the lead overlapping. This was simply resolved by building a security module that defines different business units. We clearly defined the sales territories and sales team and restricted access to the data based on the requirements from our client. In simple words, a north region sales team cannot view the leads of the south region sales team and vice versa. Based on the hierarchy, the Sales Manager has the access to the leads of the entire region. Each team member is assigned security roles which will define what kind of privileges they have and what level of data they can access.
It might sound very complex, but when it comes to CRM it is very simple because everything is already structured in the CRM security model. You just have to configure it. 
On the service side of it, when a service concern is raised, the customer is attended to by a different representative every time they call back. It is hard for the customer to explain the same concern to more than one representative and it can be infuriating. This challenge was addressed with a unified service desk in customer service where everything is based on the customer registration number. Once the number is punched in, all of the data and conversations associated with a customer will pop up, so that the representative can address the latest issue without asking the customer the same questions all over again.
And one more example I would like to share. One of our clients wanted to opt-in for Cloud but as per the country law, they couldn't transfer the data to Cloud. So, we approached Microsoft and they resolved it by implementing a private cloud CRM with all the standards as per their law.
CM: That's something new I heard. Seems like there are no challenges that you cannot solve. Now let's talk timeline. What is the quickest and the longest Dynamics CRM implementation you had?
RM: The shortest one took us 6 weeks. It was a robotics manufacturing company, containing both B2C and B2B sales. The key to such a quick implementation was a very good understanding of the customer's requirements right from the start. We got the pilot approved and kicked off the project right away. And the longest project I had was 6 months. It was an insurance company with many different modules. There was also a lot of third-party integration and this is what usually consumes a lot of time during the implementation.
CM: Thank you so much for your time today.
RM: Thank you for having me!